Blue Screen Printing Ink
£8.99 – £13.49
Exceptional colour vibrancy and durability for long-lasting prints.
Versatile, suitable for various surfaces, from fabric to paper and more.
Water-based and eco-friendly, making them safe and environmentally responsible.
Jacquard Blue screen printing ink is easy to work with, offering smooth and consistent application for all skill levels.
Extensive colour range, including metallic and fluorescent options for creative freedom.
So much more than Just Pudding Basins
Satisfaction Guaranteed
No Hassle Refunds
Secure Payments
Same working day despatch
UK company / UK Stock
Share this with others
Description
Exceptional Colour Vibrancy and Durability: Jacquard Blue Screen Printing Ink offers unmatched colour vibrancy and durability. The pigments are highly saturated and remain vivid even after multiple washes, ensuring that your printed designs retain their visual impact.
Versatile on Multiple Surfaces: These inks are suitable for a variety of surfaces beyond fabric, including paper, wood, metal, and more. This versatility allows for a broad range of creative applications, making it an ideal choice for artists and crafters.
Water-Based and Environmentally Friendly: Jacquard Screen Printing Inks are water-based, non-toxic, and environmentally friendly. This formulation makes them safer to use and reduces their impact on the environment, making them suitable for a wide range of projects.
Ease of Use and Consistency: This Blue Screen Printing ink is designed for smooth and consistent application. It has a creamy texture that is easy to work with, whether you're a novice or an experienced screen printer. The ink is also compatible with various screen types and mesh counts.
Wide Colour Range: Jacquard offers an extensive colour palette, including metallic and fluorescent options, allowing for endless creative possibilities. You can mix and match colours to achieve custom shades and effects, making your prints truly unique.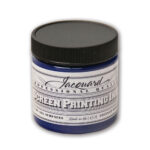 Blue Screen Printing Ink
Your review
* Review is required
Email
* Email is required