Brown Solarfast
£13.99
Sun-powered fabric printing for eco-friendly creativity
Creates permanent, fade-resistant designs for lasting appeal
Suitable for various fabric types, offering versatility in applications
Easy-to-use, quick photographic process for detailed prints
Non-toxic and safe formulation aligns with modern sustainability standards.
Bottle size 236.5ml (8 fl oz)
Out of stock
So much more than Just Pudding Basins
Satisfaction Guaranteed
No Hassle Refunds
Secure Payments
Same working day despatch
UK company / UK Stock
Share this with others
Description
UV-Powered Fabric Printing: Jacquard SolarFast allows users to harness the power of the sun to create intricate and permanent photographic prints on fabric. This innovative process offers a natural and eco-friendly way to transfer images to textiles, eliminating the need for traditional printing methods.
Permanent and Fade-Resistant Results: SolarFast provides vibrant, fade-resistant colours that are designed to withstand washing and exposure to sunlight. The printed designs remain crisp and durable, making them suitable for clothing, home decor, and artistic applications.
Versatile Application: This product is suitable for a wide range of fabrics, including cotton, silk, and synthetic materials. It opens up a world of possibilities for artists, crafters, and designers to apply their creativity to various textiles.
Easy-to-Use Photographic Process: Jacquard SolarFast simplifies the photographic printing process. Users can create designs by placing objects, stencils, or negatives directly on the fabric and then exposing them to sunlight. The result is a quick and straightforward way to achieve unique and detailed prints.
Safe and Non-Toxic Formulation: SolarFast is formulated to be non-toxic and safe for use, making it suitable for a wide range of applications and age groups. This eco-friendly product aligns with modern sustainability and safety standards.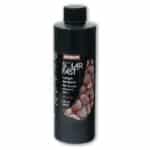 Brown Solarfast
Your review
* Review is required
Email
* Email is required