1/4 Pint – 140ml – Clear Pudding Basin and Lid (6 Pack)
£9.99
1/4 pint pudding basin with lid.
6 Pack of 1/4 pint or 140ml pudding basins and lids.
Ideal for Steaming, Boiling, Pressure Cooking and Microwave Cooking.
In stock
So much more than Just Pudding Basins
Satisfaction Guaranteed
No Hassle Refunds
Secure Payments
Same working day despatch
UK company / UK Stock
Share this with others
Description
1/4 pint pudding basin with lid.
This 6 pack of 1/4 pint pudding basin is very popular, whether it's for an individual pudding or dessert, batch making of mini shepherds pies or simply for leftovers.  This little cutie is the one to use – and our sales show us you do!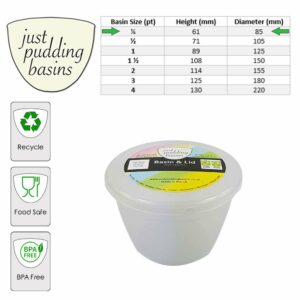 Details :
Size Imperial | ¼ Pint
Size Metric | 140ml
Basin Colour | Clear
Lid Colour | Clear
Use for | Steaming, Boiling, Pressure Cooking and Microwave Cooking
Recyclable | Yes
Dishwasher Safe | Yes
Freezer Safe | Yes
Pack Size | 6 x 1/4 Pint Clear Pudding Basin & Lids
Never let boil or steam dry
Not for conventional oven or grill
Not sure if this is the right size for you?
Click here for a half pint basin, the next basin size up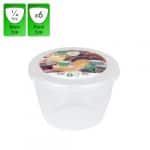 1/4 Pint - 140ml - Clear Pudding Basin and Lid (6 Pack)
Your review
* Review is required
Email
* Email is required